The 2020 Educator Summit is going virtual this year!
The Educator Summit is an annual event, hosted by Character Lab and Relay GSE, designed to give teachers the knowledge and skills they need to help all students develop character.
Check out the lineup of speakers and presenters for this year's summit, happening on Wednesday, July 22, 2020: https://educatorsummit.org/
Our recap of the 2017 summit is below, and highlights from previous years can be found here: https://characterlab.org/ed-summit/
---
How do you help students build strength of heart, mind and will? Researchers and educators gathered recently in Philadelphia to trade insights and encouragement.
On July 13 and 14, a group of around 400 educators, researchers, public figures, and thought leaders gathered in Philadelphia's Center City for the third annual Educator Summit, hosted by Character Lab (a John Templeton Foundation grantee) in partnership with the Relay Graduate School of Education. Character Lab, which was co-founded in 2012 by Angela Duckworth, a professor, education researcher, and MacArthur "Genius" grant recipient renowned for her study of grit as a key factor in student success, uses the summit to provide teachers with tools to foster character development in their students.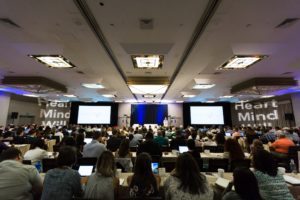 The 2017's summit's theme, "Character in 3D," references research by Duckworth and others dividing attributes of character into three dimensions: interpersonal ("strengths of heart" like gratitude, purpose, and emotional intelligence), intrapersonal ("strengths of will" like grit and optimism), and intellectual ("strengths of mind" like curiosity, zest, and self-control). The summit was curated to give educators an orientation in the science of development along these dimensions, coupled with tools and encouragement to apply what they've learned back in the classroom.

Building a Dream Team
For Duckworth, the conference was not just about conveying the ideas of Character Lab and other researchers, but to do so with a level of quality that passionate educators deserve but don't often get due to lack of funding and other factors. For the Educator Summit, "we really tried to treat them the way they should be treated," Duckworth says.
The result: an event that one attendee described as mixing elements of an academic conference, a series of TED Talks, and an an episode of "Oprah." As researchers and leaders gave brief presentations, a "Dream Team" worked behind the scenes to grant wishes — entered using the Educator Summit's mobile app — to attendees. Interns were dispatched to a local bookshop to fill bags for a kindergarten instructor in need of curriculum materials. Another teacher requested and received a pack of Character Lab "Gratitude Cards" to take back to her students.
When Character Lab executive director Donald Kamentz was onstage recounting the story of how influential his own high school band director had been in his own character development, his colleagues had their own wish-granting in store: they had flown Kamentz's teacher, Rodester Brandon, from Miami to Philadelphia to join his former student onstage. "We wanted to have a sparkle and delight and surprise," Duckworth says. And if that moment was any indication, they succeeded.
The Main Stage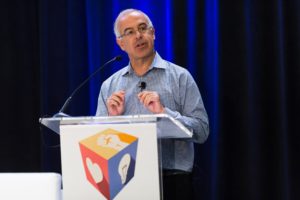 The conference's marquee speaker was New York Times columnist David Brooks, author of The Social Animal and The Road to Character. In his remarks, Brooks explored the ways in which educators can help their students discover their sense of purpose through nurturing a mix of humility and giving to others. Brooks was followed by top-tier academic researchers, from the University of Virginia's Daniel Willingham, who applies insights from cognitive psychology to K-12 education, to Penn chronobiologist David F. Dinges, who studies alertness in adolescents, to Harvard's Bridget Terry Long, who looks at best practices for preparing students for the transition from high school to higher education.
The second day of the summit started with by former Secretary of Education John B. King, Jr., whose current venture, the Education Trust, works to close talent and achievement gaps among students, and closed with remarks by Duckworth herself.

Chance Meetings and Breakout Sessions
Each day also featured two-hour educator workshops, on topics ranging from how to lead a year-long deep dive into a single character topic, to ways in which food can be used to help students develop curiosity, resilience, and wonder. A parallel track for the academic researchers in attendance allowed them to give brief presentations and elicit feedback on their current research into character.
There was also immense value in the view of Duckworth and her team, in the non-programmed elements of the summit. "For 363 days of the year we work for teachers and with scientists, but really we don't get to see them in person," Duckworth says. "Some have argued in the 21st century everything can be virtual, but it was really powerful to all be under the same roof and talk about the work."