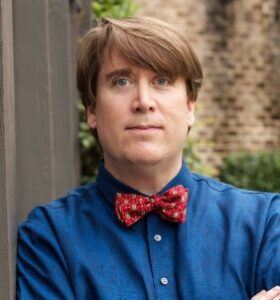 West Conshohocken, PA — The John Templeton Foundation is pleased to announce the appointment of John Bare, PhD, as Vice President of Programs. In this role, Bare will oversee the Human Sciences, Character Development, and Individual Freedom & Free Markets departments. He will also serve as a member of the Foundation Leadership Team, reporting directly to President Heather Templeton Dill.
Mr. Bare most recently served as Senior Vice President of The Arthur M. Blank Family Foundation and Disruptor-in-Residence at Babson College. He joins the foundation with more than two decades of experience in the nonprofit sector, as well as a myriad of significant works as an author, journalist, and media consultant.
During his tenure at The Arthur M. Blank Family Foundation, Bare spearheaded numerous innovative projects, including the development of a $50 million grant to Babson College to create The Arthur M. Blank School of Entrepreneurial Leadership. In 2021, Babson College invited Bare to continue his transformative work with entrepreneurial education as the College's third Disruptor-in-Residence. In this role, Bare worked with Babson faculty and students to challenge existing educational norms and processes, prioritizing the creation of new business case studies that featured underrepresented entrepreneurs, including women and people of color.
Bare's other accomplishments in the nonprofit space include leading the curation and reporting for West Creek Ranch, a nonprofit retreat center devoted to small-group immersions in crucial social, environmental, and civic issues. Ideas that emerged from West Creek Ranch include: Adapting and scaling Dr. Laurie Santos' Yale happiness course for high school students around the country; accelerating Dr. Robert Waldinger's work to transfer knowledge from Harvard's 80-year longitudinal study on life satisfaction into practical tools that help individuals navigate the toughest life transitions; and testing a chatbot that is delivering AI-driven phone therapy on two college campuses.
"It's an honor to join the John Templeton Foundation," said Bare. "I am inspired by the Foundation's commitment to a world where people are curious about the universe, motivated to pursue lives of purpose and overwhelmed by selfless love."
Mr. Bare received both his PhD and Master's in Mass Communication Research from the School of Journalism and Mass Communication at the University of North Carolina at Chapel Hill.