#CultivatingCharacter: A Global Movement to Cultivate Character both Online and Off Through Living 24/6
Encouraging people to spend one day a week screen-free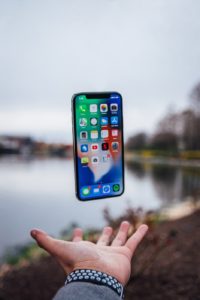 Since the early days of the World Wide Web, Tiffany Shlain has been a master at recognizing, celebrating, and expanding the ways that growing global connectivity can allow people to learn and enjoy new things. In 1996, Shlain founded the Webby Awards, considered the Oscars for the Internet, to honor the best of what the Web was beginning to make possible. In the early 2000s, Shlain shifted to filmmaking, making her mark at festivals like Sundance and Tribeca with documentaries and short films. 
As a filmmaker, Shlain was drawn to topics similar to those the Webbys celebrate — connectedness and the potential for nascent scientific discoveries and technological advances to make people's lives better. In 2013, eager to explore new ways to make her films more interactive and impactful, Shlain and Sawyer Steele co-founded Character Day, an annual, worldwide celebration centered on character development. Their idea was to create short films highlighting the latest insights from the science of things like gratitude, empathy, curiosity, and grit, and then to provide a platform for audiences — ranging from elementary, middle, and high school classes to employees at global corporations and families at home — to gather for a day and discuss topics around character development. Character Day's in-person discussions are augmented with short films, online resources, and a global livecast linking the events together, featuring leading experts like psychologists Martin Seligman and Angela Duckworth, and public figures like Rabbi Lord Jonathan Sacks and Khan Academy founder Sal Khan.
Character Day's audience has grown from 1,500 schools and groups participating in the first year to over 200,000 registered groups for Character Day 2018. Once downloads of the films, discussion materials, social media reach, and other resources are included, Shlain's team estimates they reached an audience of around four million in 2018. 
"Character Day is all about looking at our behavior," Shlain says. "How and why do we behave a certain way in the world, and what is the research and science on how to develop character strengths like kindness, love, empathy, grit, or self-control?" Studies commissioned by Let it Ripple, Character Day's parent organization, and carried out by the University of Pennsylvania's ImpactED, show that the vast majority of Character Day participants say it strengthened their personal intention to use the tools to improve their character and that they believed that participation had increased their institutions' support of their character development. 
TURN ON, TUNE IN, LOG OUT
The 2019 edition of Character Day will feature a few changes. For one thing, it will be expanded to cover two days, September 27–28, 2019. The first day will be similar to previous iterations, with online videos, resources for discussions in classrooms and via the webcast, and content from allied organizations like Character Lab, Common Sense Media, Inner Explorer, and Character.org. For the second day, participants are encouraged to take what they've learned and have discussions in person, at home, with their families. The reason for this relates to Character Day's 2019 theme: encouraging participants to think about the way that our present screen-mediated society influences the growth of character, and challenging them to begin a new practice of switching off their screens for a 24-hour period once a week.
For Shlain, the seed for this year's theme was planted around a decade ago. "My father died and my daughter was born within days of each other," Shlain says, "and it really made me look at the way I was living my life. I started to really question how screens were changing my behavior. So my family and I started unplugging all screens one day a week for what we call our technology Shabbat."
Shlain's weekly pause on screen use is inspired by the Jewish ritual of Shabbat, which runs from sundown Friday to sundown Saturday. With screens set aside, she and her family revel in the freedom to be present with one another. "We do a lot of reading, writing, hanging out, and reflecting — it's the most glorious day," Shlain says. And though it is rooted in her own family's religious tradition, Shlain thinks a tech Shabbat has a lot to offer anyone, whatever their approach to faith.
"I do yoga and meditation, and have great respect for the traditions they come from, but I do not consider myself Hindu or Buddhist because I do them," Shlain notes. "The concept of Shabbat is such a beautiful and needed practice right now — a true day of rest for whatever background you come from. Our modern version of Shabbat is a day without screens."
To introduce the concept to this year's Character Day participants, Shlain and her team have put together a series of weekly challenges to help people increase the amount of time they spend off screens and to see how even these short breaks can change their perspective and make it easier to practice character traits like humility, gratitude, kindness, or curiosity. Sawyer Steele is working closely with ImpactED to generate new research about whether Character Day participants take up the tech Shabbat challenge — and how the weekly day off from screens affects their character development goals.
A PALACE IN TIME
Shlain hopes that this year's Character Day — as well as her just-published book, 24/6: The Power of Unplugging One Day a Week — will help people be more aware of the ways new technologies influence our character, and more willing to embrace habits that help screens make a more balanced contribution in everyday life.
"I've spent my whole career devoted to the good things you can do with all this connectivity and sharing of ideas, and I could never do Character Day without technology," Shlain says. "I'm not anti-tech at all — I'm just anti-tech 24/7, which is often the way we're living."
Shlain often thinks about a line from the 20th-century Jewish philosopher Abraham Herschel, who wrote that "the seventh day is like a palace in time."
"Our ideas around time are so blurred right now," Shlain says. "Our sense of time is relative to our state of motion and technology speeds up our state of motion in our minds so much. When you turn it off It's like time slows down — it's magical! My Saturdays feel like four days in one."
STILL CURIOUS?
Sign up for this year's Character Day, watch videos from previous years, and find resources for all ages about character development.
Learn more about Shlain's multi-year experience with a weekly technology Shabbat in her book, 24/6: The Power of Unplugging One Day a Week.
Read a 2017 research report by ImpactED on how Character Day has affected its past participants.